June 2018
S
M
T
W
T
F
S
1
2
3
4
5
6
7
8
9
10
11
12
13
14
15
16
17
18
19
20
21
22
23
24
25
26
27
28
29
30
ZAR News
Source: www.fanews.co.za
SA PRIVATE EQUITY CONTINUES TO ENDURE DESPITE SLOWING GROWTH (Tanya van Lill, SAVCA)
Wednesday 3 May 2017
Despite South Africa's contracted economic growth forecast at the end of 2016 the performance of the South African private equity industry ended the year on a positive trajectory, demonstrating the asset class's ability to continually source attractive deals and produce favourable returns amidst challenging local market conditions.

This is according to the latest results of the RisCura-SAVCA South African Private Equity Performance Report for the fourth quarter of 2016.

Tracking a representative basket of private equity funds in South Africa, this quarter's report expanded its sample size to include a number of private equity funds with a vintage from 2010 to 2015, thereby providing a greater reflection of the industry's performance.

The report indicates that the industry in rand terms delivered a ten-year internal rate of return (IRR) of 15.8% at the end of December 2016. This compares favourably to the five-year IRR (14.8%), which is marginally below the three-year IRR of 16.1%.

This quarter's report also showed a strong performance of the 2013 - 2015 vintage grouping, which reported a 20.9% IRR from inception to December 2016.

Relative to the listed market, private equity's performance remains favourable over a ten-year period. The Public Market Equivalent (PME) - a measure of relative performance, which has a value of more than one when private equity outperforms listed equity - is greater than one when calculated against the FTSE/JSE All Share Total Return Index (ALSI TRI) as well as the FTSE/JSE Shareholder Weighted Total Return Index (SWIX TRI). The greatest outperformance is relative to the ALSI TRI, recording a PME ratio of 1.15.

Furthermore, over a three-year period, private equity outperformed all three listed market benchmarks, as illustrated by the direct alpha indicator - an additional performance measurement indicator introduced in the 2016 third quarter report - which supplements the information included in the PME by reflecting the rate at which an outperformance is generated (i.e. in instances where the PME value exceeds one).

As at the end of December 2016, the direct alpha earned by private equity relative to the ALSI TRI is 8.2% per year, while the annualised outperformance relative to the SWIX TRI and the FTSE/JSE Financials (FINDI TRI) is 6.7% and 5.5%, respectively.

Tanya van Lill, CEO of the Southern African Venture Capital and Private Equity Association (SAVCA), says that although the South African economy remained under pressure towards the end of last year, the positive performance of private equity is indicative of an asset class that remains focussed on careful deal selection with a long-term investment view, thereby allowing it to weather economic storms.

"South Africa's private equity industry boasts a long and proven track record, and the latest performance results - especially shown by the new sample added to this survey - once again attests to the vital role that private equity plays in a diversified, institutionalised portfolio, especially now as investors seek solid performance in a low-returns environment," says van Lill.

Deborah O'Hanlon, Junior Associate: Independent Valuations at RisCura, says, "Although this is a challenging time for the private equity industry, with growth in South Africa having slowed substantially, private equity funds are managing to find attractive deals in the market. Regarding realisations, after a relatively quiet start to the year, the second half of 2016 saw a significant uptick in cash distributed to investors."

Van Lill concludes: "Taking into account the important and positive impact that private equity has on the economy, through its dedication to growing businesses and their connected communities - the case for private equity stands firm in a time where economic growth sits high on the agenda."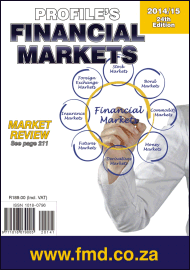 Profile's Financial Markets 2014/15 is the companion volume to this website. Click here for more information
Key Market Indicators
As at 15 June 2018
| | | |
| --- | --- | --- |
| Indicator | Close | Move(%) |
| BRENT | 75.94 | -1.04% |
| GOLD | 1302.90 | 0.24% |
| EURGBP | 0.87 | 0.15% |
| USDJPY | 110.67 | -0.01% |
| USDEUR | 0.86 | -0.20% |
| USDZAR | 13.45 | 0.06% |
| USALB | 2.91 | -1.09% |
| STEFI | 3.96 | 0.02% |
CLICK HERE for the monthly global markets report.