October 2017
S
M
T
W
T
F
S
1
2
3
4
5
6
7
8
9
10
11
12
13
14
15
16
17
18
19
20
21
22
23
24
25
26
27
28
29
30
31
ZAR News
Source: www.fanews.co.za
JULY'S SILVER LININGS (by Dave Mohr, Izak Odendaal, Old Mutual)
Tuesday 1 August 2017
South African investors face the twin headache of disappointing returns and widespread uncertainty (and pessimism) over the domestic economy's prospects. But there has been better news recently. With one day to go, July has been a strong month on local and global markets, lifting year-to-date returns to more respectable real levels.

Global equity rally continuing

Supported by stronger global economic growth, decent earnings results and a benign inflation and interest rate outlook, global equity markets have touched new record-high levels over the past two weeks. The benchmark US S&P 500 Index has gained 11% so far this year. Almost 80% of the S&P 500 companies which reported results for the second quarter beat earnings estimates.

A cautious Fed

A key event last week was the monetary policy meeting of the US Federal Reserve (the Fed), which concluded with interest rates being left unchanged as expected. However, it noted its concern that inflation had declined recently. If inflation remains low - and lower than expected - there is little reason to raise rates. The Fed also stated its intention to reduce the size of its balance sheet "relatively soon". It will do this by not reinvesting the interest and capital from maturing bonds bought as part of its quantitative easing (QE) programmes between 2008 and 2014. The QE programmes were an unprecedented monetary experiment, and will be unwinded. The Fed is therefore likely to pause rate hikes while it commences trimming its balance sheet.

The dampened expectations for US interest rates have put further downward pressure on the US dollar, which touched a nine-month low on a trade-weighted basis last week. The inability of Donald Trump's Republican Party to repeal healthcare legislation (Obamacare) is also seen as dollar negative, as it calls its ability to implement growth-enhancing tax reform into question. Finally, a strong European economy has lit a rocket under the euro. Euro member states are reporting strong second quarter growth numbers and economic sentiment indices at ten-year highs are still at levels consistent with continued economic expansion.

Incidentally, last week was the five-year anniversary of the peak of the Eurozone debt crisis. Bonds of peripheral members of the currency bloc had slumped (and their yields spiked) amid fears that the euro itself might be in danger. The turning point was a speech in London during which European Central Bank President Mario Draghi said that the bank was "ready to do whatever it takes to preserve the euro and believe me: it will be enough."

It marked the turning point in the crisis. A week later, a programme called Outright Monetary Transactions (OMT) was announced, with a promise to buy the bonds of a struggling country in unlimited quantities. Bond yields of Italy, Portugal, Ireland, Spain and even Greece (the so-called PIIGS) quickly receded. The irony - and the important point - is that Draghi never actually bought a single bond under OMT (quantitative easing only started much later in 2015 in response to deflationary fears). All he had to do was to promise to intervene, and the markets did the rest. This is the power of central bankers, and why their actions and intentions are under so much scrutiny.

Softer dollar

A weak dollar is beneficial for US-listed multinationals, when they translate foreign earnings, and also tends to be supportive of commodity prices and emerging market currencies. The rand has gained 9% against the dollar over the past year, which will add to downward pressure on inflation. While the appreciation of the rand against the dollar detracts from global returns from the perspective of local investors, it does not wipe them out completely anymore. The MSCI World Index has returned 14% in dollars and 9% in rands in 2017, which is ahead of inflation. Emerging market equities have delivered even better returns, delivering 25% in US dollars year-to-date, which translates to around 20% in rands.

Better performance from the JSE

After June's sharp losses, the local equity market rebounded in July. The FTSE/JSE All Share closed above the 55 000 points level for the first time in almost three years. The improvement has been broad-based across financials, resources and industrials.

Since the start of 2017, the All Share has delivered 9% including dividends. This is ahead of inflation and an encouraging performance. Over 12 months, the All Share return is only 5%, but any one-year comparison is very dependent on the start date. Because the Alsi sold off in the second half of last year, one-year returns will rise to around 10% by December if the index remains flat for the remainder of the year.

Buoyed by firmer commodity prices, and good results from Anglo American, who will pay a dividend six month earlier than expected, the JSE's resources index has returned more than 10% this month, pushing year-to-date returns into positive territory. Financials and industrials indices have each gained around 5% this month. The former benefited from a 6% jump in bank shares, while the latter is being driven by the incredible rally of Naspers. Naspers has gained 40% this year, benefiting from its shareholding in Chinese internet giant Tencent, which has rallied 60% over the same period.

Like local equities, bonds are enjoying a strong month. The All Bond Index has returned 1.6% in July, as bond yields declined, lifting the year-to-date return to 6%, which is ahead of cash. The SA Reserve Bank's surprise interest rate cut has been a shot in the arm for local bonds. The yield on the benchmark R186 government bond fell to 8.5% from 8.8% at the start of the month and 8.9% at the start of the year.

Producer inflation slowed faster than expected to 4% in June, the lowest rate in almost two years. Due to a stronger currency and low global inflation, the price index for imported goods fell 5.3% in May. Moreover, the country's maize crop is expected to be the biggest since 1981, and double last year's. This has seen the maize price fall sharply. The petrol price will rise by around 20 cents per litre due to the recent uptick in the global oil price, which counters the downward trend in inflation somewhat. However, the petrol price will still be below its April 2014 all-time high of R14.16 per litre. Another potential risk to inflation is Eskom's application for a 20% tariff increase. But the string of governance controversies at the utility might count against it when the regulator decides. On balance, disinflationary pressures in the economy outweigh inflationary pressures. Therefore, the Reserve Bank will probably reduce the repo rate further, despite its deep-seated conservatism, joining other emerging market central banks that are cutting as inflation recedes (Brazil cut by 1% last week).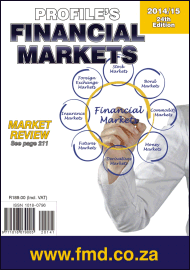 Profile's Financial Markets 2014/15 is the companion volume to this website. Click here for more information
Key Market Indicators
As at 20 September 2018
| | | |
| --- | --- | --- |
| Indicator | Close | Move(%) |
| BRENT | 79.40 | 0.47% |
| GOLD | 1204.70 | 0.48% |
| EURGBP | 0.89 | -0.01% |
| USDJPY | 112.49 | 0.19% |
| USDEUR | 0.85 | -0.89% |
| USDZAR | 14.29 | -2.21% |
| USALB | 3.07 | -0.07% |
| STEFI | 4.03 | 0.02% |
CLICK HERE for the monthly global markets report.