October 2018
S
M
T
W
T
F
S
1
2
3
4
5
6
7
8
9
10
11
12
13
14
15
16
17
18
19
20
21
22
23
24
25
26
27
28
29
30
31
ZAR News
Source: www.fanews.co.za
MARKET OUTLOOK 2018 - STAY IN IT FOR THE LONG HAUL by Rian le Roux, Peter Brooke, Old Mutual Investment Group
Thursday 30 November 2017
While global prospects still look good for 2018, the outlook is never riskless, especially in an environment where central banks are normalizing monetary policy settings. Add South Africa's own problems of weak growth, serious fiscal challenges and the risk of exiting key global investor indices and investors would do well to buckle up for a bumpy ride and prepare to stay the course.

This is the view of Rian le Roux, Economic Strategist at Old Mutual Investment Group, who shared his insights on the international and local investment landscape for 2018.

On the world stage ...

"The global scene can still be described as Goldilocks, characterised by firm and broadening economic growth, low inflation most everywhere and a good environment for emerging markets, characterized by a soft dollar, firmer commodity prices and strong capital inflows," says Le Roux.

"As this environment has been in place for some time now, and has been reflected in strong global equity performance, the inevitable question is when all of this will turn sour in the light of global central banks gradually pulling in the extreme stimulus measures that have been in place in the aftermath of the global financial crisis in 2008/9," he says.

While a legitimate concern for investors, Le Roux says that such an outcome is not in stall for 2018. Importantly, with global inflation pressures still relatively muted and growth, while improving, still sub-par compared to past cyclical global upturns, policy makers are unlikely to turn unexpectedly aggressive with policy normalization. Indeed, the dominant US Federal Reserve, at their last meeting, expressed some concern over the sustained low inflation in the US, a clear indication that while a December rate hike by the Fed is still very much on the cards, it will act very cautiously in 2018 as long as inflation remains soft. This is good news not only for the US economy, but pretty much for the entire world economy.

"In essence, there are four key risks for 2018 that investors are keeping a close eye on. They are: an unexpected strong inflation rise especially in the USA after all, policy error by key central banks, China's debt deleveraging (leading to a growth slowdown) and geopolitics, especially the tensions in the Korean Peninsula," he says.

And on the homefront ...

Turning his predictions to South Africa, Le Roux says that the developing markets saw solid growth in 2017 of around 5% on aggregate, South Africa's estimated 0.8% expansion in 2017 leaves it trailing very badly. Moreover, the outlook for 2018 barely looks better. While expecting a better performance than the current consensus view of little over 1% growth in 2018 - the Old Mutual economists are predicting around 1.5% - it is still a poor performance relative to SA's peers, SA's own history and what is required to accommodate a growing labour and already high rate of unemployment.

He says that In South Africa, there are key issues that need to be addressed urgently next year, irrespective of the ANC election outcome. The two key ones are to restore fiscal health, including derisking SOE's through much improved overall management, and restoring business-, investor and consumer confidence.

Without a material improvement in confidence it is hard to see a strong and/or sustainable local economic recovery. Remaining in the current structural growth rut for much longer will further undermine the fiscal situation and raise social pressures, outcomes which could have dire longer term consequences for South Africa.

However, a strong commitment by the new leadership to fiscal consolidation and growth-friendly economic reforms can potentially pay quick and considerable dividends in terms of confidence and growth. As we have alluded to earlier and, indeed, on a number of occasions in the past, a revival in business-, investor and consumer confidence must not be underestimated in terms of its ability to materially improve South Africa's medium term prospects.

Given political realities, it is hard to see such a strongly favourable outcome already in 2018, so while things are expected to improve moderately next year, there should be guarded against both excessive pessimism and optimism.

An absent strong confidence recovery and concomitant private investment revival, consumers face a difficult 2018. With little job creation, slowing wage increases as businesses are under pressure, a likely sizeable tax hike in next year's budget and little hope of further interest rate cuts by the Reserve Bank, little more than a very slow expansion in consumption is in prospect for 2018.

As far as the Rand is concerned, says Le Roux, as confidence and longer term prospects for South Africa goes, so will the Rand go. In the shorter term considerable volatility should still be expected as the elective conference, February 2018 Budget and Moody's decision likely after the Budget as to how to resolve the credit watch on SA's rating will be key drivers.

So what does this mean for investors?

According to Peter Brooke, Old Mutual Investment Group's Head of MacroSolutions, there is a silver lining to the bad news. This is because the sell-off in local assets has made them cheaper and the better valuation means higher future expected returns. For instance, we have increased our expected returns for local property and local bonds by half a percent. All South African yield assets stand out as particularly cheap and local shares have also de-rated.

"Political uncertainty remains, but increasingly the risk for investors is good news because the bad news was already priced in," explains Brooke. "A good political outcome will mean the Rand strengthens and will act against returns. It is therefore prudent to have a well-balanced portfolio."

"We have maintained our over-weight to global equity that shows strong global economic growth and is diversified from South Africa. On the other hand, we are also looking at SA assets that have priced in bad news, including SA listed property and selected equities such as Barclays Africa that has dividend yields of 7% and will grow in the long run."

Despite the weak South African economy, returns from the JSE have been very good. With its strong focus on international profits, the JSE has been driven higher by global markets, the weaker Rand and Naspers. Unfortunately, many investors missed out on these good returns because of the fear of a ratings downgrade.

Brooke says that returns up to June were relatively poor compared to cash, but a sharp rally since then has rewarded investors who stuck to their plan. This is common with markets were returns occur in short sharp bursts and the opportunity cost of missing out on these is very high. "Our analysis on the JSE over the last 20 years shows the relevance of this. If you stayed invested over the entire time you would have enjoyed an excellent return of 15.6% per annum. However if you missed the ten best days returns drop sharply to 12.2%. This may not sound like much of a difference but it is means one ends up with roughly half the savings in the end. This clearly shows the value of staying invested for the long haul," concludes Brooke.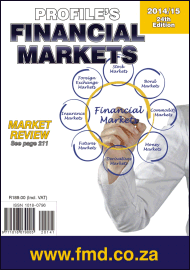 Profile's Financial Markets 2014/15 is the companion volume to this website. Click here for more information
Key Market Indicators
As at 18 October 2018
| | | |
| --- | --- | --- |
| Indicator | Close | Move(%) |
| BRENT | 80.05 | -1.67% |
| GOLD | 1222.90 | -0.21% |
| EURGBP | 0.88 | 0.26% |
| USDJPY | 112.19 | -0.43% |
| USDEUR | 0.87 | 0.42% |
| USDZAR | 14.47 | 1.43% |
| USALB | 3.17 | -0.19% |
| STEFI | 4.05 | 0.02% |
CLICK HERE for the monthly global markets report.